Scrum Developer Expert™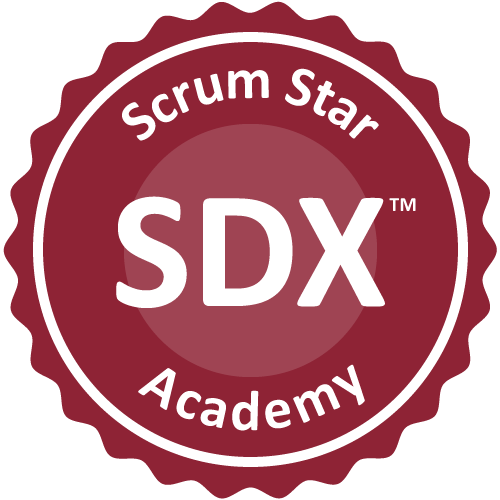 The SDX™ certification proves your knowledge of the Scrum framework and the essentials of creating software products from the position of a developer working in a Scrum Team.
Classroom training is not required to take the certification test. You will do all the studying on line using the provided materials. It's an all-in-one package that will elevate your Scrum knowledge to an intermediate level and prepare you for the test.
Certification Test Details
| | |
| --- | --- |
| Certification: | Scrum Developer Expert™ |
| Number of questions: | 80 |
| Time limit: | 60 minutes (45 seconds per question) |
| Passing score: | 85% (12 incorrect answers allowed) |
| Level: | Intermediate |
| Question format: | Single and multiple choice |
| Test topics: | Scrum Theory, Team, Events, Artifacts, Scrum in Practice, and Scrum Developers |
| Language: | English |
| Certificate validity: | Lifetime |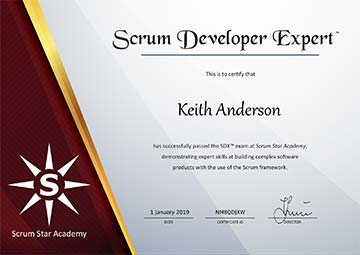 How to Prepare
We know that finding the right materials to prepare for a certification test can be stressful and challenging. But it shouldn't be. It's your knowledge that should be tested, not your research skills.
This is why we put together a complete package of study materials that include everything you will need to get ready for your test. If you take the time to study and apply yourself, you should have no problem getting a passing grade.
Watch the videos

Watch the 36 videos that will teach you everything you need to know about Scrum to pass the test. The course starts from the basics so it can even be used by beginners. Learn More.

Read the e-book

Use the 70 page reference e-book that follows the video course to review the information. It contains bite-size text and familiar illustrations taken directly from the video animations to trigger your memory.

Use the practice exam

Train using the 260 questions included in the practice exam until you consistently score 100% in all the relevant sections. Set the timer to simulate the real test and monitor your progress statistics. Learn More.

Explore the additional resources

Browse and learn from the collection of free resources by world-class Scrum experts like Mike Cohn, Henrik Kniberg, and others. There are 6 free e-books, 16 hours of video content, and 27 links to high quality tutorials, blogs, and forums.
Frequently Asked Questions