Affiliate Program Tutorial
With the Scrum Star Affiliate Program you can earn a commission from the sales on our website! This tutorial will guide you through the Affiliate Program options available in your Scrum Star account and teach you how to get started.
To see the overview of the Affiliate Program, read about its benefits, and learn about how much you can earn, click here.
1. Specify your PayPal Account
The first thing you need to do is specify your your PayPal address where you'll be transferring your earnings. Log in to your Scrum Star Academy account, click on the 'Affiliate Program' link on the menu and then click 'Settings.' Make sure the 'Enabled' box is checked and your PayPal email address is correct. Click the 'Save' button to save your settings.


2. Create your affiliate codes
Once your Affiliate Program is properly set up, you can get started with your promotions. Click on the 'Affiliate Program' on the menu and then click on 'Codes.'
You'll see a list of your unique affiliate codes. You can create as many codes as you like and use them for different promotional venues. By using different codes you can see which promotions are most successful.


3. Get your affiliate URLs
Click the 'Get URLs' button next to any code to get the affiliate links you can use in your promotions. You can use these links on your blog, in your social media, etc.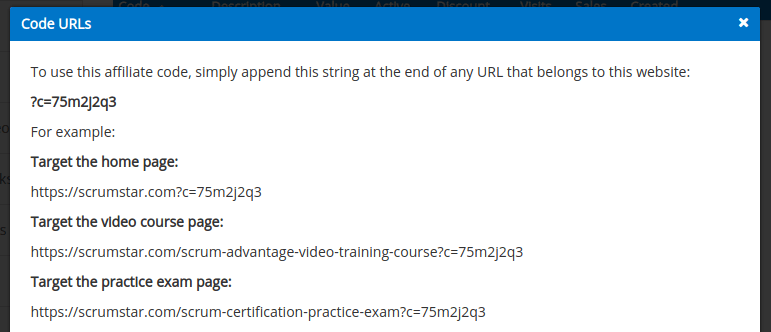 4. Track your visits and sales
When someone clicks on your affiliate link, our website will track them and record their visit. Click on 'Affiliate Program' on the menu and then on 'Visits' to see the real-time list of your affiliate visits.

If the visitor makes a purchase, you will see it in real-time on the 'Sales' page. Click 'Affiliate Program' on the menu and then click on 'Sales.'

5. Check the stats
Click on 'Affiliate Program' and then on 'Overview' to get a birds-eye view of your affiliate program. On this page you can see your financial information, and if any earnings are ready for payout, you can transfer them to your PayPal account.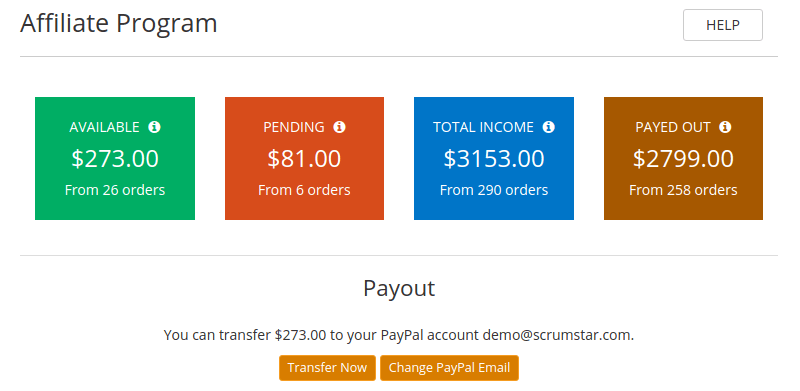 You can also see graphs of your current month's visits and sales, the sale breakdown over the last 24 months, and the list of the top countries and devices. Here's a sample of the breakdown graph:

5. Track your payouts
A payout is a transfer of your earnings from our PayPal account to yours. Click on 'Affiliate Program' and 'Payouts' to see the list of the payouts you've made.